Occupational Therapy
Therapy to help children improve skills for everyday life tasks
What Does An Occupational Therapist Do?
How Do I Know If My Child Needs Occupational Therapy?
How Does Always Keep Progressing Help My Child?
What Do I Do If I Think My Child Needs Support?
Occupational Therapy 
Introduction
Occupational therapy refers to therapy that helps children of all ages to develop and improve the skills necessary to engage in everyday life activities, otherwise known as "occupations".
These occupations help them to participate in their everyday habits, routines, school environment, work environment or community. For the pediatric population, their main occupation is PLAY!
Occupational therapy centers around play to promote independence for activities of daily living, such as getting dressed everyday, eating, bathing, transferring, toileting, personal hygiene, etc.
What Does An Occupational Therapist Do?
An occupational therapist (OT) is a highly trained healthcare professional, who is licensed to evaluate and treat infants, children, adolescents and young adults who have disabilities or difficulty participating in their "occupations" or everyday life activities. For children, their "occupation" includes playing, learning, going to school, and other activities of daily living. For the young adult, this could include participating in school, community, or the workplace.
An occupational therapist specializes in treating the following areas:
Fine motor/bilateral coordination skills
Activities of Daily Living (ADL)
Self care skills
Gross motor skills
Handwriting skills
Attention/executive functioning
Social/pragmatic skills
Visual motor/visual perceptual skills
Self regulation skills
Cognitive skills
Play skills
Sensory integration/motor planning
How Do I Know If My child Needs Support?
Some children have difficulties mastering skills that allow them to play appropriately, develop essential life skills, and do things independently. If your child is experiencing issues with fine or gross motor skills, sensory processing, visual-perceptual skills, etc., he/she may benefit from pediatric occupational therapy. What does this all mean?
Delay in fine motor skills: Some children struggle with tasks that require dexterity, control, and strength of the hand muscles, i.e. using scissors, drawing, using utensils, stringing beads, writing.
Delay in gross motor skills: Some children struggle with tasks involving the major muscle groups. This could lead to issues with balance, strength, endurance, coordination, which affects their ability to walk, jump, hop, play catch, or climb stairs.
Sensory processing issues: Children who have sensory processing disorders can also benefit from pediatric occupational therapy. Common signs that your child may need occupational therapy include overreacting to sounds, touch, taste, or smells, or displaying under-sensitivity (i.e. seeking out sensations and touching everything constantly).
What Do Occupational Therapists Help?
Occupational therapists work with the following diagnoses:
Sensory integrative dysfunction
ADD/ADHD
Autism Spectrum Disorder
Asperger's
Cerebral Palsy
Sensory processing disorder
Handwriting difficulties
Fine motor delays
Gross motor delays
Down syndrome
Hypotonia
Spinal cord injuries
Coordination difficulties
Congenital abnormalities
Brachial Plexus injury
Genetic disorders
Traumatic brain injury
Developmental delay
Limited independence with self-care
skills
And much more!
How Can Always Keep Progressing Help My Child?
Many children can benefit from occupational therapy. Our bilingual, trained, and licensed occupational therapists specialize in pediatrics and service individuals with:
Birth injuries or defects
Hand injuries
Traumatic brain injuries
Developmental delays
Autism spectrum disorder/pervasive developmental disorders
Chronic illnesses
Sensory processing disorders
What's next 
What Do I Do If I Think My Child Needs Support?
Firstly, we want to assure you that there is no need to worry. We are here to guide you through every step of the way and help you to find the support that your child needs! If you feel that your child is in need of our services, you will follow four major steps: book a free consultation, complete the intake form, schedule the initial evaluation, and schedule treatment sessions.
Each step of this process is very important, and can get complicated when using insurance. We specialize in working with insurance, and are here to walk you through the process and make things as easy and pain-free as possible!
Of course, if you are opting to use private pay, these steps will be simplified.
1. Consultation
You can book a free consultation with one of our occupational therapy specialists or trained professionals by clicking the button in the top right corner ! A consultation consists of listening to your concerns, getting some information about payments/insurance plans, and walking you through next steps. Most of the time, we can complete the consultation with you right then and there!
2. Intake Form
 Complete our intake form and provide us with a detailed case history. Usually, we are able to complete the intake form with you during our consultation call. This information allows us to secure your child's spot, create your child's profile in our system, and helps the occupational therapists to prepare for the right evaluation materials for your child.
3. Evaluation
Once we have verified your insurance and received necessary documents, such as a doctor's referral order (some insurances require authorization for evaluations, and some don't), you will be all set to start! Our scheduling coordinator and administrative staff will contact you right away to schedule your initial evaluation based on your availability. Following the evaluation, we will formulate a personalized plan of care and call/meet with you to define your child's goals and type/duration/frequency of treatment.
3. Treatment
Once all documents are in place and your insurance approves services, our scheduling coordinator and administrative staff will call to schedule treatment sessions at times that suit you and begin your child's journey towards success!
Related
Occupational Therapy Articles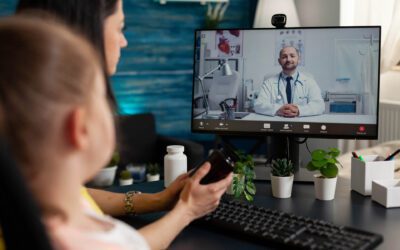 Prior to your sessions, our scheduling team and/or therapist will send you a link to join the virtual therapy session. The therapist will also notify you of any toys you may need to use to participate in the session. As a parent, you play a crucial role in ensuring...
Insurances
We Accept Most Major Insurance Plans
Don't see your insurance here? Contact us and we will help you get the services you need!