Teletherapy
Access our award-winning therapies right from your home.
Is Teletherapy Effective?
What Are The Benefits of Teletherapy?
How Does Teletherapy Work?
Speech Therapists and Pathologists
What is Teletherapy?
Teletherapy is a therapy that is provided over a secure, live video connection. It is an approach to pediatric therapy that allows us to connect with your child through secure and interactive online platforms. Whether you're in Miami or beyond, our teletherapy services bridge the gap, ensuring that your child receives the care they need.
Always Keep Progressing provides speech, feeding, occupational, music, and art therapies via telehealth. Now, you can access our expert care from the comfort of your own home, bringing quality therapy to your fingertips.
Is Teletherapy as effective as face-to-face services?
Research has shown that teletherapy is just as effective as in-person therapy for most children. While Teletherapy is not a new concept, its use has not been as prevalent as it is today given the pandemic we are experiencing.
Thanks to secure teletherapy platforms, Always Keep Progressing Miami was able to transition from offering only in-clinic therapies, to also being able to offer Teletherapy services during and following the pandemic in 2020.
Extensive research on Teletherapy shows that it is an effective method of treatment for speech and language issues. Research aside, therapists and parents have also seen significant progress in our clients through teletherapy options.
During one study published in November of 2021, families reported that "teletherapy was just as effective for their child as in-person services"
According to a 2021 report from the American Speech Language Hearing Association (ASHA), 80% of clients who completed all speech therapy visits over teletherapy demonstrated progress toward their therapy goals.
A study published in 2021 compared teletherapy to conventional face-to-face therapy for those receiving Speech Therapy, showing reports of increased parent satisfaction due to the cost-effectiveness of teletherapy vs in-clinic therapy.
Benefits of Teletherapy?
Convenience and Flexibility
Life is busy, and we understand that. With teletherapy from Always Keep Progressing, you have the flexibility to schedule sessions that work best for your family. No more commuting, no more waiting rooms – therapy comes to you.
Access to Expert Care
Our team of experienced and licensed therapists is dedicated to your child's progress. Teletherapy allows us to extend our reach, ensuring that children in Miami and beyond can benefit from our specialized services.
Comfort and Familiar Environment
Being in a familiar environment can enhance the therapeutic experience for your child. Teletherapy takes place in the comfort of your home, promoting a sense of security and ease.
Real-time Interaction
Through video sessions, our therapists engage with your child in real-time, providing personalized guidance, feedback, and support. We utilize interactive tools and activities to make sessions enjoyable and effective.
Further Benefits include 
Continuity of services while viruses/illnesses are going around.
Reducing costs and travel time
Fewer canceled appointments
Increased carryover of strategies and goals into the home setting, due to higher parent participation and participating in therapy sessions in the natural environment
Increased parent participation and involvement in sessions
How Does Teletherapy Work?
Schedule a Session
Contact us at Always Keep Progressing Maimi to schedule a teletherapy session at a time that suits your family's routine.
Virtual Connection
We provide secure and user-friendly virtual platforms for therapy sessions. All you need is a device with a camera and internet access.
Engaging Sessions
Our therapists conduct personalized sessions using a variety of interactive tools and activities tailored to your child's needs.
Progress Monitoring
We closely monitor your child's progress and adjust therapy plans as needed to ensure optimal development.
Helpful Information 
Articles and Helpful Information on Teletherapy.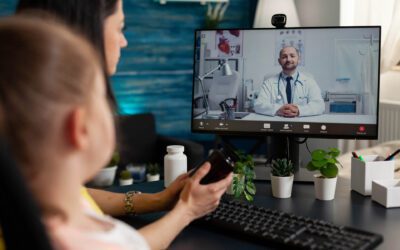 Prior to your sessions, our scheduling team and/or therapist will send you a link to join the virtual therapy session. The therapist will also notify you of any toys you may need to use to participate in the session. As a parent, you play a crucial role in ensuring...
Insurances
We Accept Most Major Insurance Plans
Don't see your insurance here? Contact us and we will help you get the services you need!