Stuttering Therapy in Miami
Treatment for children who have difficulties with fluency
What Does A Speech Therapist Do?
How Do I Know If My Child Needs Support?
How Does Always Keep Progressing Help My Child?
What Do I Do If I Think My Child Needs Support?
Stuttering Therapy 
Introduction
Stuttering therapy refers to therapy that helps children of all ages to develop and improve their fluency skills. Stuttering therapy can also be referred to as fluency therapy. The ultimate goal for a speech therapist doing stuttering treatment is to help children to improve speech fluency, develop effective communication, increase self awareness, and participate fully in school, social, or work activities while minimizing stuttering events.
What is a Speech Therapist?
What Does A Speech Therapist  Do?
A speech therapist is a highly trained healthcare professional, who is licensed to evaluate and treat infants, children, adolescents and young adults who have disabilities or difficulty participating in everyday life activities due to a fluency disorder. Speech therapists help to improve a child's fluency of speech and train parents about parent-child interactions and carryover of strategies to decrease stuttering.
During the evaluation, a speech therapist might ask a child to:
Have a conversation and talk freely to watch, listen, and observe for stuttering events (i.e. repetitions of sounds, syllables, whole words, phrases, prolongations, blocks, etc.)
Ask him/her to read a short story aloud to observe for stuttering events
Ask the parent to describe health/medical history, including when the stuttering began
Describe when the stuttering happens most or what triggers stuttering
During stuttering treatment, a speech therapist might:
Ask the child to use slow, easy, smooth speech. In other words, the therapist will teach your child how to speak at a slower rate with easy onsets and speak smoothly.
Ask the child to identify and model slow, easy, smooth speech versus fast, hard, bumpy speech. This increases awareness so the child can learn how to self monitor his/her own speech.
Reduce secondary behaviors (secondary behaviors are behaviors used to mask or hide stuttering) and decrease tension in the body.
Rate his/her own speech (this also increases awareness so the child can monitor how he/she is doing)
Train the parent on how to carryover skills learned in the sessions and how to practice at home.
How Do I Know If My Child Needs Support?
If your child is experiencing issues with getting his words out, stuttering often, or appears anxious during social interactions due to fear of stuttering, he/she may benefit from pediatric stuttering therapy. If you feel that your child is in need of stuttering therapy services, Always Keep progressing can provide free phone consultations from our clinic in Miami, and an evaluation to determine a treatment program for your child.
Your child may benefit from stuttering therapy if she/he:
Repeats sounds or syllables more than twice
Shows tension and struggle in his/her face around the mouth area
Experiences "blocks" (no airflow or voice for several seconds) in his/her speech
Prolongations of sounds (i.e. sssssoft)
Gets frustrated or upset when he/she can't get words out
Gets anxious during social interactions due to fear of stuttering
Stuttering on more than 10% his/her speech
Avoids stuttering by changing words, using extra sounds, or moving his/her body parts
What does normal disfluency look like?
Repeats syllables or words once or twice
Use of some fillers (i.e. uh, er, um) less than 10% of the time
Mild disfluencies between 1.5 and 5 years, which tend to come and go
How Does Always Keep Progressing Help My Child?
Many children can benefit from stuttering therapy. Always Keep Progressing offers stuttering therapy in Miami from our new clinic. During the initial visit, a speech therapist will evaluate your child's fluency skills during speaking activities, conversational tasks, and reading tasks. If there is a stuttering disorder, the speech therapist will work with you to create a treatment plan, including instructions for home exercise programs. Remember — our clinic in Miami offers free phone consultations to help you determine the need for a formal evaluation. Our bilingual, trained, and licensed speech therapists specialize in pediatrics and treating fluency disorders.
What's next
What Do I Do If I Think My Child Needs Support?
Firstly, we want to assure you that there is no need to worry. We are here to guide you through every step of the way and help you to find the support that your child needs! If you feel that your child is in need of our services, you will follow four major steps: book a free consultation, complete the intake form, schedule the initial evaluation, and schedule treatment sessions.
Each step of this process is very important, and can get complicated when using insurance. We specialize in working with insurance, and are here to walk you through the process and make things as easy and pain-free as possible!
Of course, if you are opting to use private pay, these steps will be simplified.
1. Consultation
You can book a free consultation with one of our
speech therapy
specialists by clicking the button in the top right corner! A consultation consists of listening to your concerns, getting some information about payments/insurance plans, and walking you through next steps. Most of the time, we can complete the consultation with you right then and there!
2. Intake Form
Complete our intake form and provide us with a detailed case history. Usually, we are able to complete the intake form with you during our consultation call. This information allows us to secure your child's spot, create your child's profile in our system, and helps therapists to prepare for the right evaluation materials for your child.
3. Evaluation
Once we have verified your insurance and received necessary documents, such as a doctor's referral order (some insurances require authorization for evaluations, and some don't), you will be all set to start! Our scheduling coordinator and administrative staff will contact you right away to schedule your initial evaluation based on your availability. Following the evaluation, we will formulate a personalized plan of care and call/meet with you to define your child's goals and type/duration/frequency of treatment.
3. Treatment
Once all documents are in place and your insurance approves services, our scheduling coordinator and administrative staff will call to schedule treatment sessions at times that suit you and begin your child's journey towards success!
Related
Articles Related To Stuttering Therapies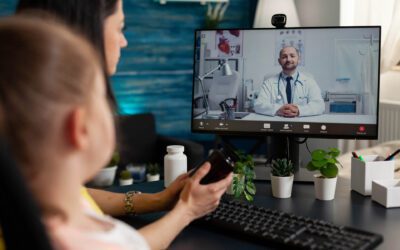 Prior to your sessions, our scheduling team and/or therapist will send you a link to join the virtual therapy session. The therapist will also notify you of any toys you may need to use to participate in the session. As a parent, you play a crucial role in ensuring...
Insurances
We Accept Most Major Insurance Plans
Don't see your insurance here? Contact us and we will help you get the services you need!