As your therapist(s) may have mentioned to you, your child's progress in therapy is directly correlated with how much you as a parent are carrying over strategies in the home setting.
While we see your child 1-3 times a week, the rest of your child's time and education revolves around being at home or school with others. When Covid broke out and our therapists began providing therapy via Telehealth, our therapists had to get creative with promoting this carryover.
One of those challenges involved creating lists of materials for their clients to have available at home. In this post, our music therapist will be sharing the top five Amazon finds for at home music enrichment. To see progress and improvements it is important to practice skills learned in therapy at home and these tools / materials are perfect for keeping your child entertained and stimulated in a creative way at home!
To learn more about Music Therapy at Always Keep Progressing, and the benefits it can have for your child, visit our Music Therapy page where you will find lots of information and other related articles.
Stoie's Kids Musical Instruments Set 19 pcs
This kit conveniently packs 19 pieces of musical instruments in the small book bag perfect for children of all ages.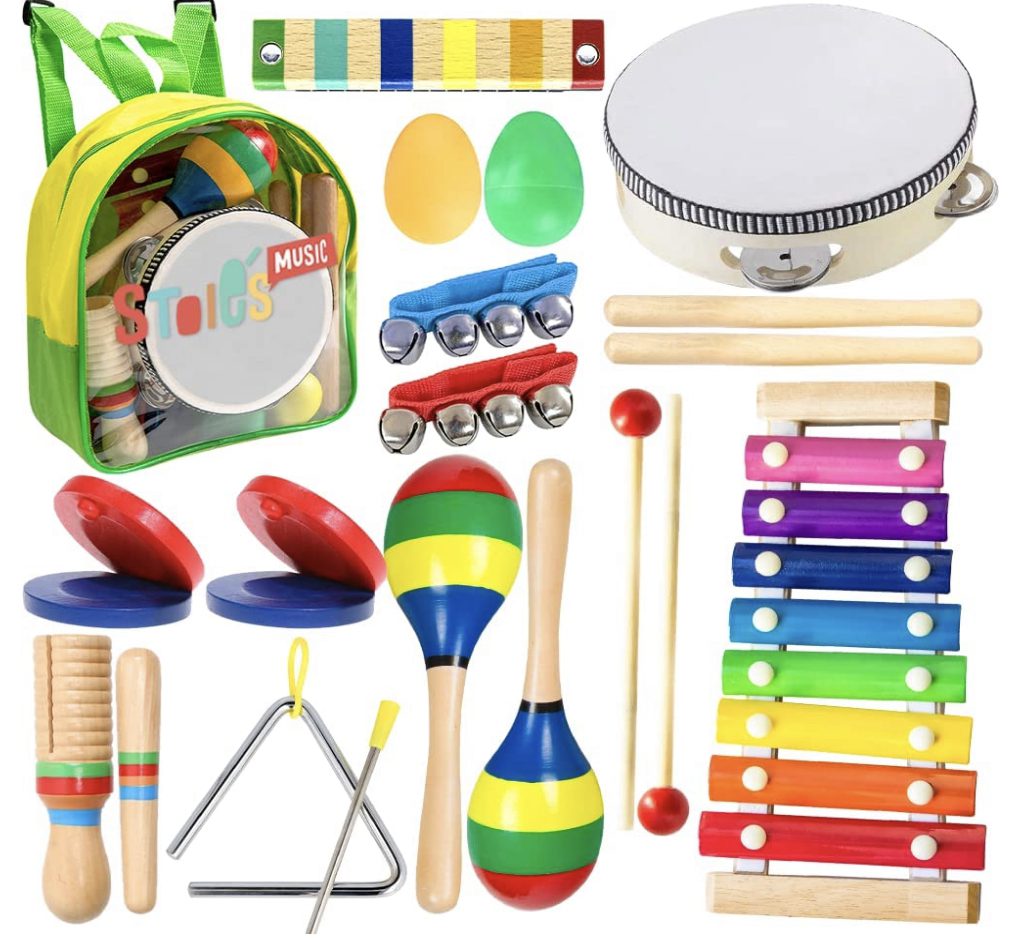 This starter pack includes:
1 Harmonica
1 Xylophone
2 Maracas
2 Egg Shakers
2 Finger Clappers
Tambourine
Drum Sticks
Wood Sounder
2 Wrist Bells
Triangle with a Striker
At home your children will have a variety of musical instruments to explore and expand their creativity! By having these instruments available to your children at home, it will limit screen time and promote growth and development of motor and musical skills.
Buy "Stoie's Kids Musical Instruments Set 19 pcs" on Amazon
Baby's First Playtime Songs: Interactive Children's Sound Book for Babies and Toddlers
This book includes the songs:
The Wheels on the Bus
Row, Row, Row Your Boat
I'm a Little Tea Pot
The Itsy Bitsy Spider
Pat-a-Cake
Head, Shoulders, Knees, and Toes
Song books like this offer your child a fun sensory experience, practice strengthening fine motor skills, and teach them popular nursery rhyme songs that they will be exposed to in school. The colorful illustrations and upbeat melodies will make them want to dance and sing!
Buy "Baby's First Playtime Songs: Interactive Children's Sound Book for Babies and Toddlers" on Amazon
MIAODAM Dancing Cactus Talking Cactus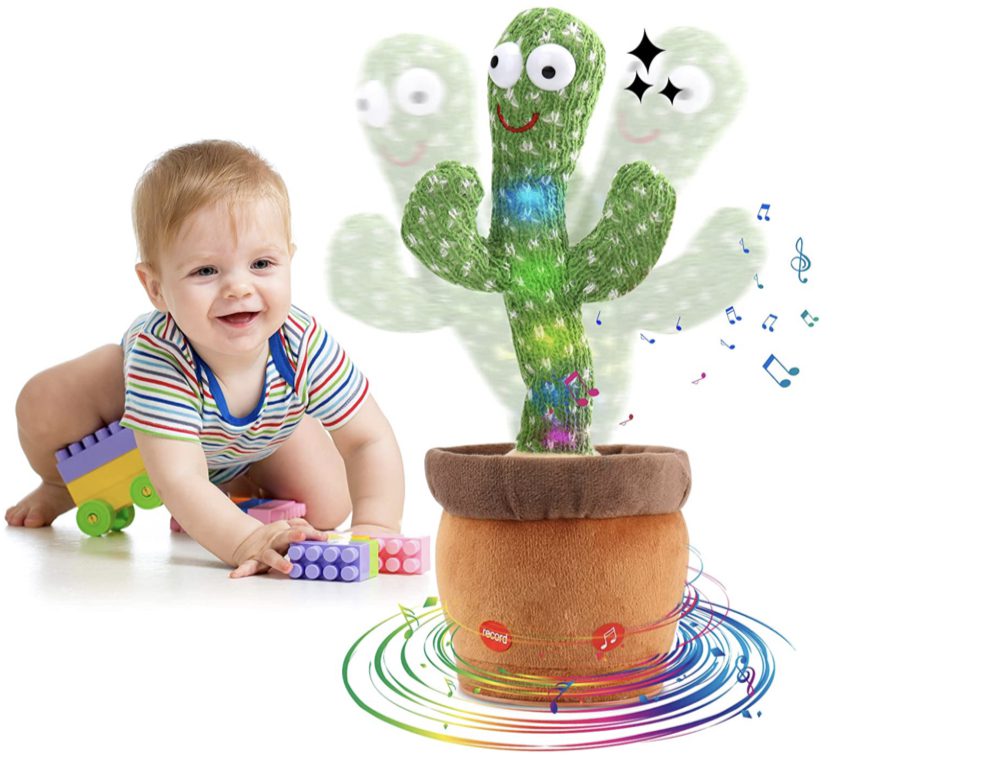 This Version many features including:
Volume adjustable
Recording and repeating
Glowing lights
Repeating, Glowing, Dancing and Singing Functions
This cactus baby toy can sing 10 English children's songs including:
Twinkle, Twinkle, Little Star,
The Alphabet Song,
If You're Happy, and other songs
This is a new exciting musical toy that will repeat whatever your toddler says back to them with music. This toy can be a fun creative way to promote verbalization of any kind. Children crave interaction with others and in times when this is not possible, this toy can mimic conversation and help your child to begin and develop the skill.
Buy "MIAODAM Dancing Cactus Talking Cactus" on Amazon
Halilit by Edushape Baby Drum – Ocean Drum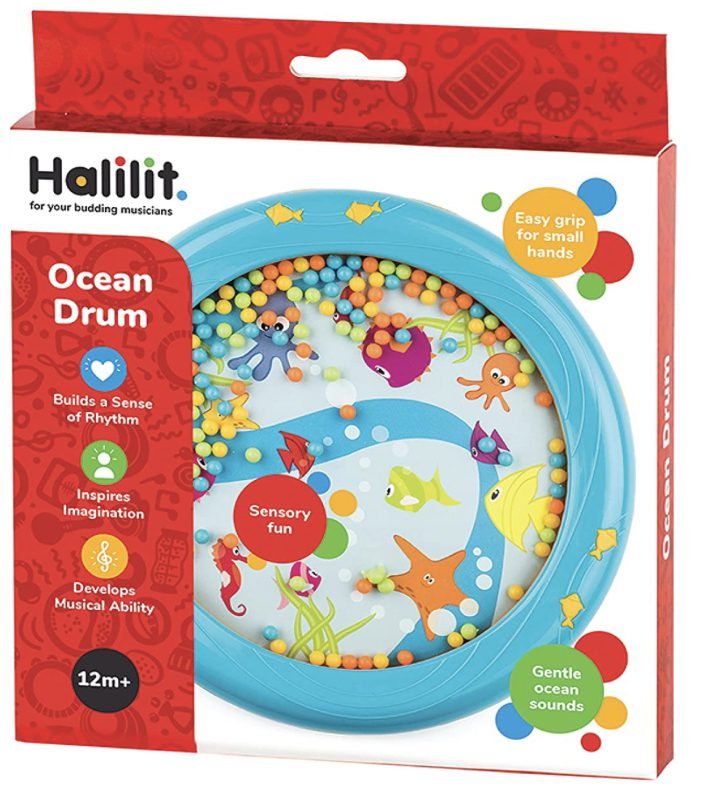 For children who seek sensory integration and stimulation, an ocean drum is a musical instrument that satisfies their needs. The Ocean drum creates a visual and audio experience that models "Gentle marine sounds". This is created by fast or slow movement of the beads in this drum, and The colorful balls make for a visual sensory experience!
Buy "Halilit by Edushape Baby Drum – Ocean Drum" on Amazon
M SANMERSEN Piano Mat, 39.5″ X 14″ Musical Mat 8 Instrument Sounds
This colorful and cute roll up piano can be used to practice a multitude of educational skills, attention and motor skills. Children can practice identification of colors, numbers, animals, and musical instruments! This piano can be played with hands and feet which will promote motor skill development, and ignite their creative side with song and dance.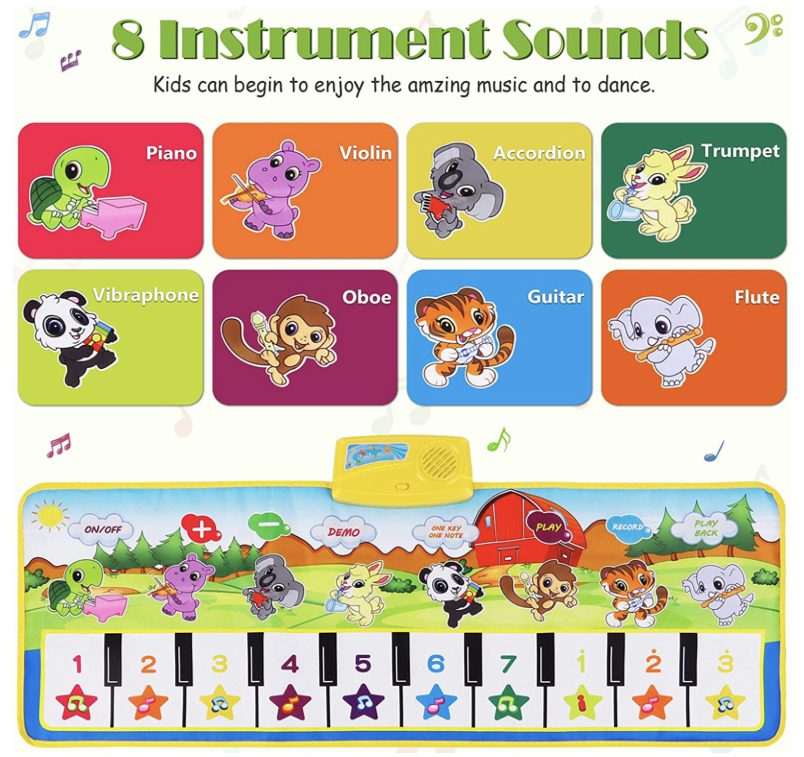 The piano comes with:
8 instrument sounds: piano, violin, accordion, trumpet, vibraphone, oboe, guitar, and flute
8 animals: turtle, hippo, koala, bunny, panda, monkey, tiger, and elephant
7 colors: red, orange, yellow, purple, violet, blue, and green
Numbers 1 – 7
Buy 'M SANMERSEN Piano Mat, 39.5″ X 14″ Musical Mat 8 Instrument Sounds' on Amazon
Music strengthens emotional communication, stimulates language development, enhances gross and fine motor skills, teaches social skills, increases brain plasticity. Studies have shown that music-based therapies are extremely effective in children with Autism Spectrum Disorders (ASDs) and other developmental disorders, as well as typically developing children! See our music therapist if you have further questions about how to use these Amazon toys to enhance communication and motor skill development! If you are not currently receiving music therapy, you can also reach out to our office management team to learn more about how to begin music therapy services (link to music therapy page?) at Always Keep Progressing.