Chain Link Activity
2020 has been quite different to say the least. In a year filled with so much uncertainty, our focus must shift towards 2021. The occupational therapists at the Always Keep Progressing Miami clinic develop and participate in playful and functional activities that keep our clients engaged especially this holiday season like this one to ring in the new year that will have them looking forward to 2021!
This is an easy and simple activity for kids that your entire family will enjoy!
Purpose
This activity is a way for your kids to develop and incorporate social skills that will aid them in interacting with family members and loved ones this holiday season. This activity also incorporates the following and target skills of fine motor skills where an activity like this can improve tasks such as handwriting, promoting a functional grasp like a tripod grasp which is the movement using a pencil, marker, crayon whichever drawing utensil you choose to use comes from the fingers with the support of the wrist and forearm. This also includes different skills like bilateral coordination, hand strengthening, finger manipulation and isolation which allows you to move the small joints of your fingers with intricate and functional tasks, and gross motor skills which are all extremely important to carry over for the new year!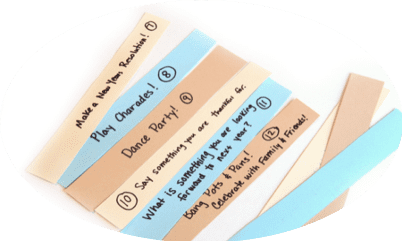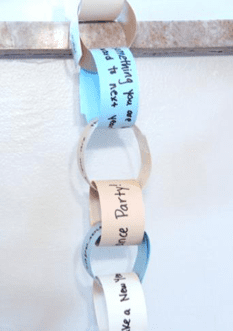 What you will need:
Paper (Card stock or construction paper should do the trick!)
Scissors
Glue or tape
Markers
What to Do:
Begin by having your child or children select the desired colored paper and cut 1 inch strips of paper
Once the strips of paper have been cut. Then grab a marker and come up and discuss ideas with your kids about activities what each of you would like to do.
Once you have written down the activity, then you will write a number next to each activity chain link.

The number will represent what hour of the day you will being doing these activities

For older kids you can write number 1-12 until midnight

For younger kids you can write midnight as "7 or 8pm".

Examples of activities can include:

Make a new years resolution

Say something you learned this year or something positive of the year 2020

What is something you will be looking forward to in the new year?

Once you have the activities written down. Use a piece of tape or glue to connect the chains. (Make sure the numbers are in order)
The kids will be able to tear out each chain link as each hour passes to countdown the new year.
Enjoy and have a Happy New Year!
References
Beck, C. (2014, December 22). New Year's Eve Kids Countdown Chain. The OT Toolbox. https://www.theottoolbox.com/new-years-eve-activity-kids-countdown/
Greutman, H. (2018, August 30). Pencil Grasp Development for Parents, Educators, and Therapists. Growing Hands-On Kids. https://www.growinghandsonkids.com/pencil-grasp-development-handout.html
Occupational Therapy in Miami
At Always Keep Progressing Miami, our trained bilingual occupational therapists provide services specifically tailored to each individual child to help grow their independence and fine-tune their occupational skills.
Contact us for an evaluation if you are interested in our services!