The Speech-Language Pathologists (SLP) indus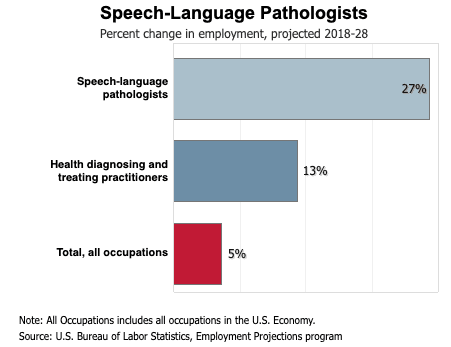 try in the United States has experienced steady and stable growth over the last five years. And as time goes on, demand for SLPs is only continuing to steadily rise. In fact, according to the Bureau of Labor Statistics, the employment of SLPs is projected to grow 27% every year until 2028, much faster than the 5% average growth rate for all other occupations in the United States. Over the next five years, SLP industry revenue is projected to increase each year at a rate of 4.4%. That's an estimate of $5.0 billion dollars in revenue in the year 2024!
Clearly, this is a really great time to be a practicing SLP. Not only are the numbers of practicing SLPs increasing, but demand for the industry's services is also growing radically. What are some of the factors driving this growth?
Increases in the number of K-12 students
Schools are the single largest market for speech-language pathologists. Children are screened for speech and language issues when they first begin kindergarten. A rapid assessment at this stage allows for the early identification and diagnosis of speech, language, and swallowing disorders in young children. SLPs assist children with vocabulary and communication development as well as a variety of other issues, including stuttering, cognitive-communication disorders like autism spectrum disorder (ASD), and difficulties swallowing.
Recent advances in healthcare have improved the survival rate of premature infants. These infants often need help with feeding and swallowing disorders, increasing the demand for SLPs in young children. Additionally, school enrollment continues to rise, according to the National Center for Education Statistics. As elementary and secondary school enrollment grows, including the enrollment of special education students, the demand for education services, like SLP services, is expected to increase.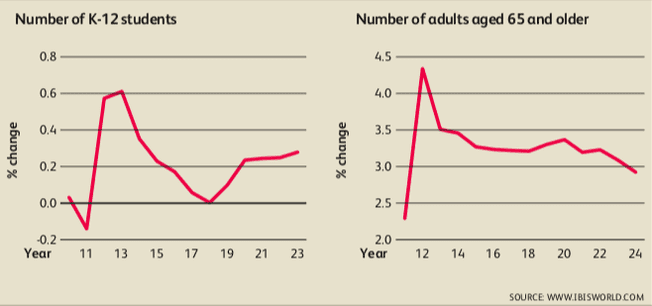 ​
Increases in the number of adults aged 65 and older
As people age, their need for medical care rises dramatically, including the need to address speech, language, and swallowing problems. Over the next 40 years, the number of Americans aged 65 and older will more than double, predicted to reach an unprecedented 80 million in 2040 (U.S. Census Bureau, 2017 National Population Projections)! An aging U.S. population will only continue to drive demand for speech-language pathology services.
​Increases in health insurance coverage
The majority of speech-language patholo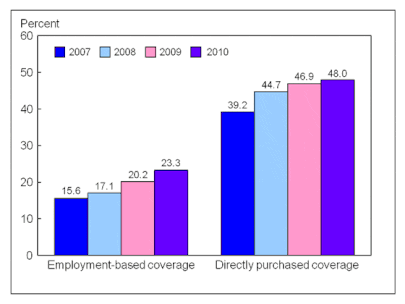 gy services are covered by private health insurance. Health insurance coverage reduces out-of-pocket expenses for insured individuals. As a result, the number of Americans currently covered by private health insurance directly influences how much demand there is for SLP services. Subsidized state and federal healthcare exchanges have expanded private health insurance enrollment since 2014.
Similarly, a growing portion of industry revenue is also derived from patients who are covered by federally funded Medicare and Medicaid programs. Healthcare reform has also increased the number of U.S. citizens who are covered by both government insurance programs. Changes to both private and public forms of health insurance have made coverage more available to American citizens, allowing more individuals the ability to access the speech-language pathology services they need.
​

From an expansion of the client base to economic improvements that enable those who need SLP services the most to afford them, now is the time when our SLP services are most needed. Demand for speech-language pathology services is higher now than ever before, and is only going to continue growing. It's the best time to be a speech-language pathologist. So let's do what we can to help the most people.
​​Sources:
​
IBISWorld Industry Report: Speech-Language Pathologists in the US [https://www.ibisworld.com/united-states/market-research-reports/speech-language-pathologists-industry/]
National Center for Education Statistics: Elementary and Secondary Enrollment [https://nces.ed.gov/programs/coe/indicator_cga.asp]
U.S. Census Bureau Population Projections for 2020 to 2060 [https://www.census.gov/content/dam/Census/library/publications/2020/demo/p25-1144.pdf]
U.S. Bureau of Labor Statistics, Speech-Language Pathologists [https://www.bls.gov/ooh/healthcare/speech-language-pathologists.htm]