by Jenilee Estevez – Occupational Therapist at Always Keep Progressing
School is out, and summer is here! The sun will be shining, sandcastles will be made, and children everywhere will be happy to have more time to themselves. All this free time opens up a world of activities parents can engage in with their children. Let's jump into some fun activities you can do at home this summer!
Edible Finger Paint
No need to worry about what your child may put in his/her body with this simple edible finger paint recipe. Using 1 cup of water, 1 cup of white flour, and food coloring, you can create a paint like paste that can be used by your child to create their works of art. Pour water into a bowl and slowly mix in the flour to create the paste, then separate into 3-4 equal parts and add food coloring. Encouraging finger painting can be a wonderful sensory activity and help with tactile defensiveness. Providing a paintbrush or sponge can be used if a child is not ready to dip their hands in the paint just yet.
Large Dry Erase Mat
A clear shower curtain liner can be inexpensive (look at purchasing in a dollar store, Walmart, or Target) and can be used as a large drawing space. Gather some dry erase markers, tape the edges of clear liner on the floor, and your children can have a new surface to be creative with. Draw pictures, incorporate toys, or even make it educational by having the children spell their name or write letters. When the fun is done, just wipe away the drawings with a wet towel. The dry erase mat is now ready to be used again.
Chalkboard Baking Sheet
Activities that can be transferred from the home to the car are helpful during those long summer road trips. Painting an inexpensive simple baking sheet (can be purchased at a dollar store) with black chalkboard paint allows that baking sheet to now be a fun and educational toy. Using small and/or broken chalk pieces will help encourage an appropriate grasp while writing or coloring. Adding letter magnets to the chalkboard will help with letter recognition, and the child can practice tracing or copying letters.
Slime
Not only is slime fun and enjoyable for kids to play with, it provides a tactile sensory experience, can help promote fine motor skills, and be calming for a child. Slime can be customizable to your child with different colors or glitter used.

Slime can be made with a few simple ingredients:
– School glue gel (or gel glitter glue)
– Water
– Food coloring
– Starch

Pour 1/4 cup of glue in a bowl, then pour 1/4 cup of water in bowl and mix together. Add food coloring to the bowl, and mix together. Add 1/4 cup of starch to the bowl and mix together. You now have a new gooey activity your child will be sure to love!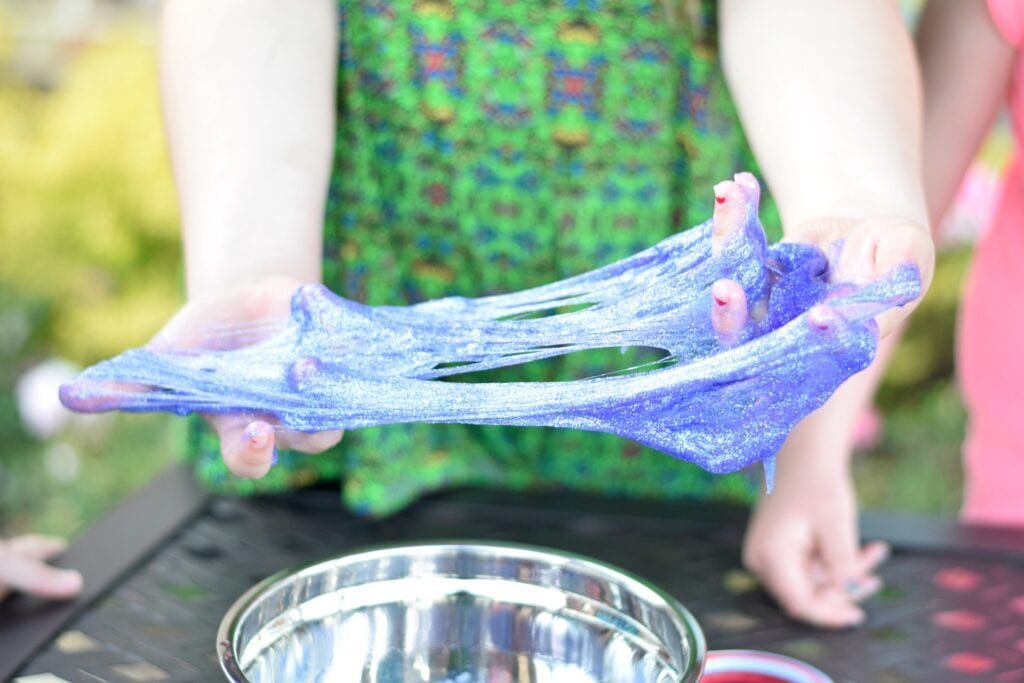 ---
Always Keep Progressing
We are a private speech-language pathology and occupational therapy practice in Miami, Florida, dedicated to providing personalized therapy to children of all ages. Our trained bilingual occupational therapists provide services specifically tailored to each individual child to help grow their independence and fine-tune their skills. Contact us for an evaluation if you are interested in our services!
For more resources check our other blogs and follow us on Facebook, Instagram, and LinkedIn!
---
Resources:
Christiekiley. (2013, April 14). Homemade Edible Finger Paint (No Cornstarch Needed). Mama OT.
http://mamaot.com/homemade-edible-finger-paint-no-cornstarch-needed/

Cravener, J. (2014, July 37). $1 Giant Dry Erase Mat. i heart arts n crafts.
https://www.iheartartsncrafts.com/giant-dry-erase-mat-kids-toddler-activity/

Spohr, M. (2015, May 23). 29 Dollar-Store Finds That will Keep Your Kids Busy All Summer. BuzzFeed.
https://www.buzzfeed.com/mikespohr/29-dollar-store-finds-that-will-keep-yourkids-busy-all-summ#.lqll72xl