"The more that you read, the more things you will know. The more that you learn, the more places you'll go"- Dr. Seuss. Books are an amazing way to help your child learn and enhance language skills!
Increase Vocabulary
Children need to hear words often and repeatedly to learn how to use them and when to use them. Children's books provide children with short sentences that are rich in vocabulary. They often times use the words in different ways throughout the book. Books also provide pictures to illustrate what is happening to help make things even more clear. Make reading fun and choose a book that interests them. Children learn best when they are excited about what they are doing! Books have themes therefore they are being exposed to all different types of vocabulary whether it be zoo, farm, or jungle vocabulary.
Joint attention
The pages in the book provide a clear image for them to engage with. They grab the child's attention by using bright colors, flaps, textures, and silly characters unlike toys that may distract them by moving or making noise. The child is able to then point, gesture, and vocalize to different items they see on the page. Parents can read the book in a silly and engaging voice to read the words and make sounds to increase attention from your child.
Imagination
Books take us to a whole new place whether it be a magic castle or a relaxing beach. These new places open the imagination for a child to target those pretend play skills. They give opportunities to learn about places or things like the ocean, unicorns, or dragons that they may not see in everyday activities.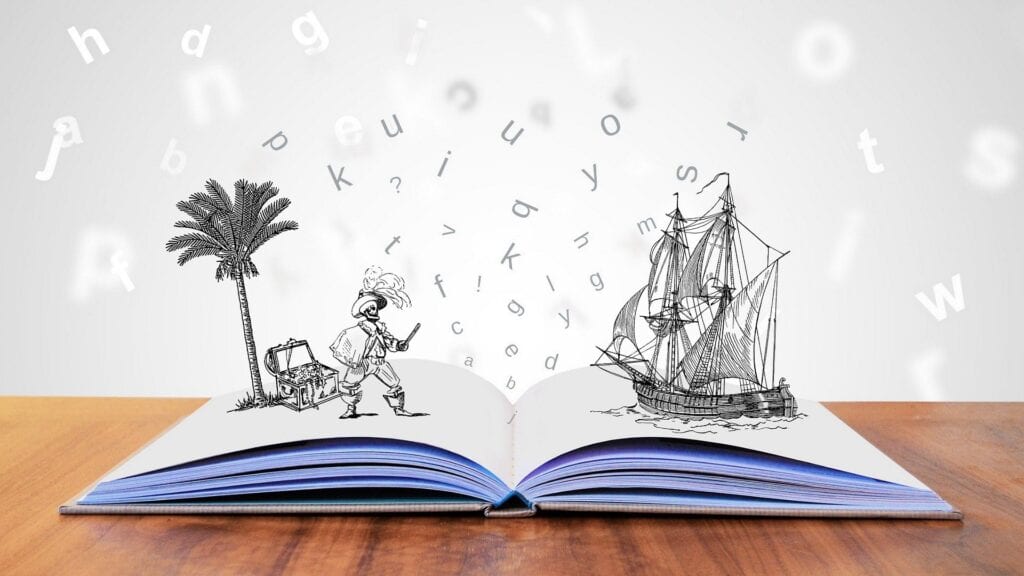 Dialogue
Books promote conversation and dialogue about events or objects. Children may be curious and ask questions about events they may have never experienced before. It also may bring up a memory of something they have experienced like going to the zoo or to the amusement park. These are the perfect opportunities to explore these topics with your child.
Book Recommendation
Here is a list of books great for each theme!
Animals: 
Brown Bear, Brown Bear- By Bill Martin
Dear Zoo- By Rod Campbell
Big Red Barn- By Margaret Wise Brown
The Three Little Pigs- Illustrated by Mei Matsuoka
Where's Spot?- By Eric Hill
Giraffes Can't Dance- By Giles Andreae
Barnyard Dance- By Sandra Boynton
Winter: 
Little Blue Truck's Christmas- By Alice Schertle
Snow Falls- By Linda Booth
Bear Stays up for Christmas- By Karma Wilson
The Mitten- By Jan Brett
That's not my Reindeer- By Usborne
A Loud Winter's Nap- By Katy Hudson
Good Morning, Snowplow- By Scholastic
Fall:
Little Acorn- By Igloo Books/Scholastic
Apples and Pumpkins- By Anne Rockwell
Little Blue Truck's Halloween- By Alice Schertle
Bear Gives Thanks- By By Karma Wilson
10 Fat Turkeys- By Tony Johnston
There was an Old Lady Who Swallowed A Turkey- By Lucille Colandro
Room on the Broom- By Julia Donaldson
Summer: 
There was an Old Lady who Swallowed a Shell- By Lucille Colandro
The Pout Pout Fish- By Deborah Diesen
LLama LLama Sand and Sun- By Anna Dewdney
Some Bugs- By Angela Diterlizzi
And Then Comes Summer- By Tom Brenner
Back to School: 
The King of Kindergarten- Derrick Barnes
Pete the Cat Rocking in My School Shoes- By Eric Litwin
If you Take a Mouse to School- By Laura Numeroff
Lola at the Library- By Anna McQuinn
Spring: 
Bloom- By Deborah Diesen
The Very Hungry Caterpillar- By Eric Carle
The Thing about Spring- By Daniel Kirk
The Tiny Seed- By Eric Carle
And Then It's Spring- By Julia Foliano
Valentines Day: 
Llama, Lama I love you- By Anna Dewdney
Happy Valentine's Day, Mouse- By Laura Numeroff
There was an Old Lady Who Swallowed a Rose- By Lucille Colandro
Hug Machine- By Scott Campbell 
The Day it Rained Hearts- By Felicia Bonds
---
Always Keep Progressing
We are a private speech-language pathology and occupational therapy practice in Miami, Florida, dedicated to providing personalized therapy to children of all ages. Our trained bilingual occupational therapists provide services specifically tailored to each individual child to help grow their independence and fine-tune their skills. Contact us for an evaluation if you are interested in our services!
For more resources check our other blogs and follow us on Facebook, Instagram, and LinkedIn!
---
References
Dickinson, D. K., Griffith, J. A., Michnick Golinkoff, R., & Hirsh-Pasek, K. (2012). How Reading Books Fosters Language Development around the World. Child Development Research, vol. 2012. Available online at: http://www.hindawi.com/journals/cdr/2012/602807/cta/.
Image Sources
Cover Image by Comfreak from Pixabay
Imagination Image by Tumisu from Pixabay